COLORADO SNOWMOBILE RENTALS START AT ONLY $180!
RENTING OUR SNOWMOBILES IN COLORADO
(Also Serving Boulder, Denver, Keystone, Breckenridge, Vail, and all of Summit County)
TRAIL DESCRIPTION
If you already know how to snowmobile, an unguided snowmobile rental in Colorado is a great way to explore the Rocky Mountains!
Our rental machines are located at our Birdseye Outpost–about sixteen miles south of Copper Mountain Resort. You are responsible for returning the sled(s) on time and in the same condition that you received it.
Also, you must be at least 26 years old, with a valid driver's license, in order to rent snowmobiles.
You have the option to explore the trails in this area, which includes thousands of acres of open terrain and miles upon miles of trails. If you're looking for fresh powder, you'll find some amazing riding in some of the back-country bowls.
The scenery around Summit County is unparalleled – three of the tallest mountains in the Rockies plus several more "14ers" (mountains over 14,000 feet), and views of Colorado's historic mining district in Leadville.
If you'd rather tow the sleds to another destination and you have a proper tow vehicle and trailer, we're happy to help you do that and suggest some of the best places to explore.
Please keep in mind that it's a very good idea to take note of where you have a cell phone signal before you head out into the back country. This way, you'll know where to return to if you need to call out for assistance.
LOCATION
Suggested Destinations:
Cotton Wood Pass (1 hour drive)

Rabbit Ears Pass (2 hour drive)

Vail Pass Recreation Area (25 minute drive)

Chicago Ridge (5 minute drive)
**MUST HAVE A VALID LEARNER'S PERMIT OR DRIVER'S LICENSE TO DRIVE A SNOWMOBILE**
COLORADO SNOWMOBILE RENTALS
2 & 3 Hour Rentals
Monday – Thursday
Starting January 15th
** Depending on Snow Conditions
•  All guests must arrive wearing clothing that is appropriate for this cold weather, outdoor activity!
•  DOT-approved helmets WILL be provided (required and they are open-faced).
•  Equipment Rentals: Adult Snowsuits $25, Adult Boots $15, Goggles $10 on a first come, first served basis. (Sorry, we do NOT have child-sized snowsuits or boots available for rent.)
Previous snowmobiling experience required

Stuck snowmobile recovery knowledge required

Knowledge of mountain survival skills is strongly recommended

Includes DOT-approved helmet and a full tank of gas
Snowmobiles Available for Rental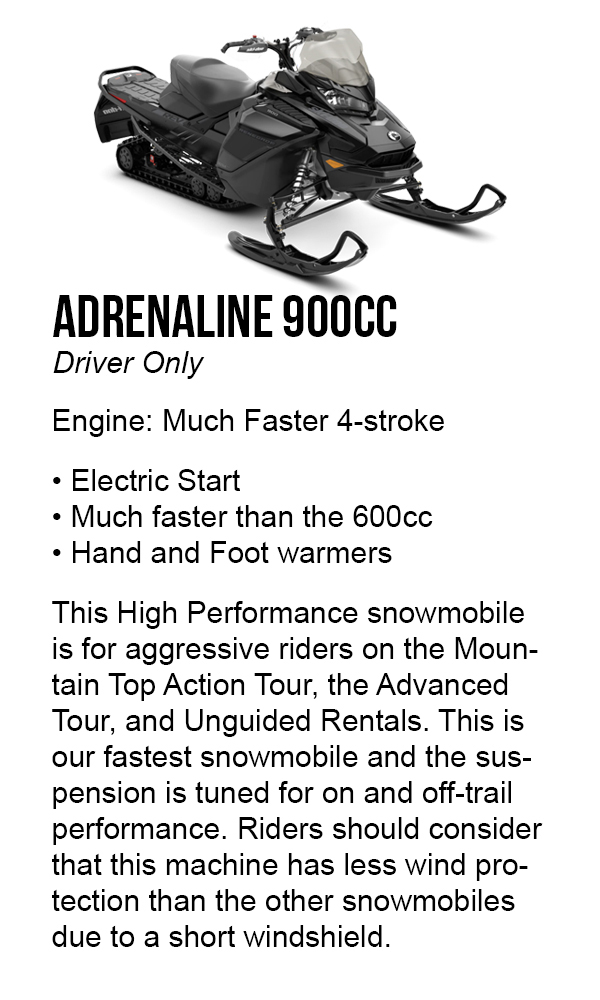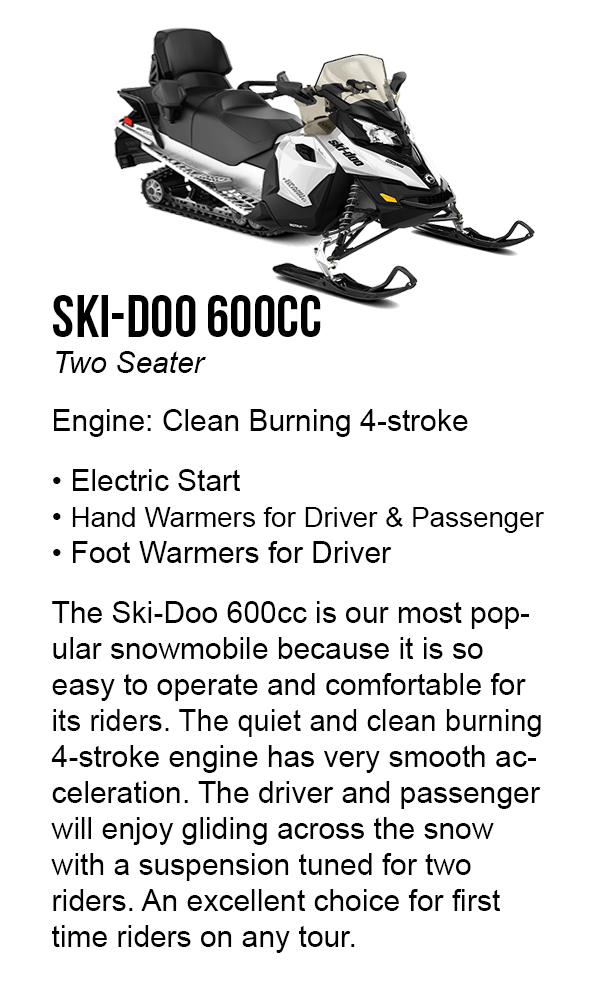 Call Us Today to Book a Rental or for More Info!
This place not only was affordable but compared to all the other surrounding locations it definitely was more personalized and friendly! Our guides name was Tim and he not only took us over 3 mountain ranges and drop a bucket load of knowledge on us about the area he made…read more →
High Country snowmobile Tours was amazing. We saw some of he most amazing views. We first took the Mountain top tour then came back for more fun on the advance course ride. Our guide was super fun and friendly both times. An experience I'll never forget!
We had a GREAT time. Trevor our guide was outstanding. This was our first time on a snow machine. We have been wanting to for a long time, but with an autistic son it just seemed like something we wouldn't be able to do. Or at least would have to…read more →
We had an awesome time! The views were amazing and our guide was very accommodating with the folks in our party that were new to snowmobiling. Highly recommend the snow tubing too, as the hill was awesome and getting pulled up the hill by your guide is almost as much…read more →
Heeney Outpost We had an absolutely wonderful time. The trail was stunning. Matt, our tour guide, was so helpful. He stopped at places and told us where we were and some stories about the them. He is very knowledgeable and very friendly. We had a great time and will definitely…read more →
Top of the mountain tour Great time with the guys on this adventure. Will was our guide and was great. Would say a bit of riding experience goes a ways in this more challenging trip up to 13,000ft. Anyone can do it but it was more challenging for some. Will…read more →
Great tour. Recommend Devan as a guide. Got a group of guys together and went for the scenic tour. Our guide was Devan and she was great. Devan was great at moving at the speed that we wanted to move at. A great balance of sight seeing as well as…read more →
Great tour and tubing! Did a 2 hour snowmobile and tube tour with family of 4 on 2 snowmobiles. Staff were very friendly and professional. Snowmobiles were in great shape and ran well. Trails were beautiful. This location is far outside of the towns and away from highways. Tubing was…read more →
Great Snowmobile Trip! I've been on snowmobile trips before and this one was my favorite! We took the trip that was at Heeney Road and the scenery was perfect, going through forest, thick trees, and open high country. Great views and a place to "open it up a little"! Our…read more →
It was Awesome We had the pleasure of doing this after an overnight snowfall. The powder was deep, like a foot deep. This made the snowmobile a little sluggish turning, but that was not an issue for us. it was absolutely beautiful driving in and out of Aspens and Evergreens,…read more →