COLORADO SNOWMOBILE TOURS
BEGINNER & FAMILY FRIENDLY
Before you head out, you will receive a detailed safety talk with your guide who will give you instruction on the operation of each snowmobile.  Get comfortable and test your skills on our 3/4 mile long oval track before heading out on the trails.
This popular tour, which is guided by a professional, is great for snowmobilers of all types. It's best suited for families with children or people snowmobiling for the first time. On a clear day, this tour provides breathtaking views of several mountain ranges.
INTERMEDIATE & ADVANCED SNOWMOBILE TOURS
The tour starts out on our easier trails and you'll have some playtime in the meadow so you can get fully comfortable with your snowmobile before you take on the steep climbs and fresh powder around Prospect Mountain.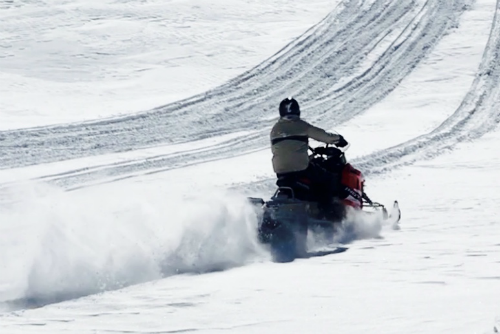 Some folks just need to go fast. Their idea of a good time is blasting through fresh powder off the trail or climbing steep hills. This tour is open to single riders, and it's best for those who want to learn how to ride off the trail.
SNOWMOBILES AVAILABLE FOR GUIDED TOURS 
SWIPE RIGHT OR LEFT TO VIEW SNOWMOBILES
Polaris RMK 1 Seater

Engine: 550cc 2-stroke
• Pull Start
• Hand and Foot Warmers
• 400lb max

The RMK is another mountain thrill machine! Available on our action and advanced tours, it's perfect for the kind of driver who prefers to dominate the mountain.
ski-doo GT 2-seater

Engine: 600cc 4-stroke
• Electric Start
• Hand and Foot Warmers
• 425lb max

This sled is all about comfort and a sleek ride. It's ideal for parents on our beginner or family-oriented tours. It still has the power with great handling.
Polaris TT 2-seater

Engine: 550cc 2-stroke
• Hand and Foot Warmers
• Pull-start

This sled has all the power and thrills that come with a two-stroke engine, but is also made to accommodate a passenger. It delivers polished performance for our action or scenic tours
ski-doo Renegade 1-seater

Engine: 600cc 4-stroke
• Heated Grips
• Foot Warmers
• Pull Start
Our latest model machine is a perfect blend of power and handling. It's designed for a thrilling ride, but without all the noise of a 2-stroke. Available for our action and advanced tours.
Polaris Indy 1-seater

Engine: 550cc 2-stroke
• Heated Grips

This powerful two-stroke, driver only sled has extra long tracks available for better grip and acceleration and more thrills. Designed for attacking the mountain, this machine is available on our action and advanced tours.
Arctic Cat XT 3-seater

Engine: 700cc 4-stroke
• Heated Grips
• Heated Seats

Our only three-seater model is designed for comfort and a smooth ride. It's available for our family and beginner tours.
Arctic Cat Pantera 2-Seater

Engine: 700cc 4-stroke
• Heated Grips
• Heated Seats

Smooth riding, yet powerful machine that comfortably accommodates a driver and one passenger. Perfect for our beginner or scenic tours.
SNOWMOBILES AVAILABLE FOR UNGUIDED TOURS 
Check Out Some Pictures from Our Tours!
This place not only was affordable but compared to all the other surrounding locations it definitely was more personalized and friendly! Our guides name was Tim and he not only took us over 3 mountain ranges and drop a bucket load of knowledge on us about the area he made myself and friends want to come back and do the advanced course. The views we had were incredible at 12500 feet in the air and did I mention how Tim is happy to take some excellent photos of everyone! I can't wait to go back and make the snow mine…read more→
High Country snowmobile Tours was amazing. We saw some of he most amazing views. We first took the Mountain top tour then came back for more fun on the advance course ride. Our guide was super fun and friendly both times. An experience I'll never forget!
We had a GREAT time. Trevor our guide was outstanding. This was our first time on a snow machine. We have been wanting to for a long time, but with an autistic son it just seemed like something we wouldn't be able to do. Or at least would have to find just the right moment without him in order to go. We had our chance and jumped. We took a 2 hour scenic tour. Got suited up in the gear and headed out for absolutely perfect weather. It ended up just the two of us and our guide Trevor. Trevor…read more→