COLORADO SNOWMOBILE TOURS START AT ONLY $135!
OUR SCENIC SNOWMOBILE TOUR IN COLORADO
Serving Denver, Boulder, Keystone, Breckenridge, and all of Summit County, Colorado
SCENIC TOUR LOCATIONS AND DESCRIPTIONS
ABOUT OUR SCENIC SNOWMOBILE TOUR
Snowmobile enthusiasts of all types will enjoy this professionally guided tour. It departs from our Heeney Outpost near Silverthorne, Colorado OR from our Birdseye Outpost south of Copper Mountain. We have pickup locations for your party in both Breckenridge and Keystone for your convenience, or we can pick you up from many of the resorts in Summit County.  You must call prior to your tour day to schedule transportation. (Transportation not available during peak season.)
While it's best suited for those lacking experience with snowmobiling or families with children, anyone can enjoy the breathtaking views and good times tooling around on the trails or playing on our oval track in the meadow. We also offer a 1,000 foot tubing hill as an option at our Heeney Outpost where everyone can let out their inner child! (See our Scenic + Tubing Tour!)
Depending on weather, some of the nearby sights include: Rocky Mountain National Park, the Continental Divide, and several of the tallest peaks in the Rocky Mountains. Bring a camera and let your guide know if you're the type who is into taking advantage of all the photo opportunities. They will be happy to show you all the best places to take photos that your friends will envy!  Along the way, we'll stop off at our "cocoa" cabin to warm up with complimentary hot beverages while you're surrounded by Eagle's Nest Wilderness.
PICTURES FROM THIS COLORADO GUIDED SNOWMOBILE TOUR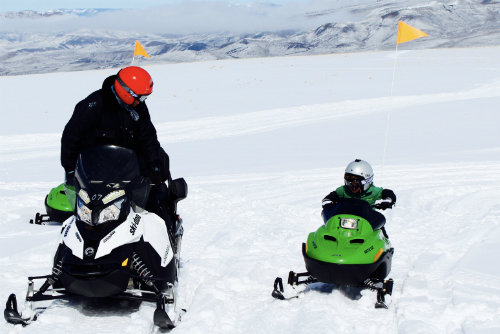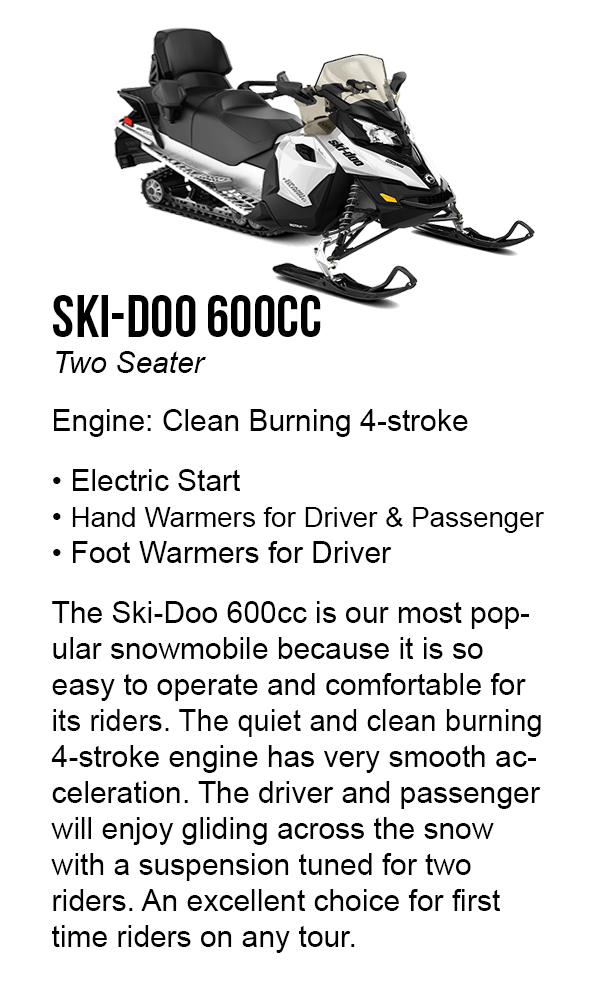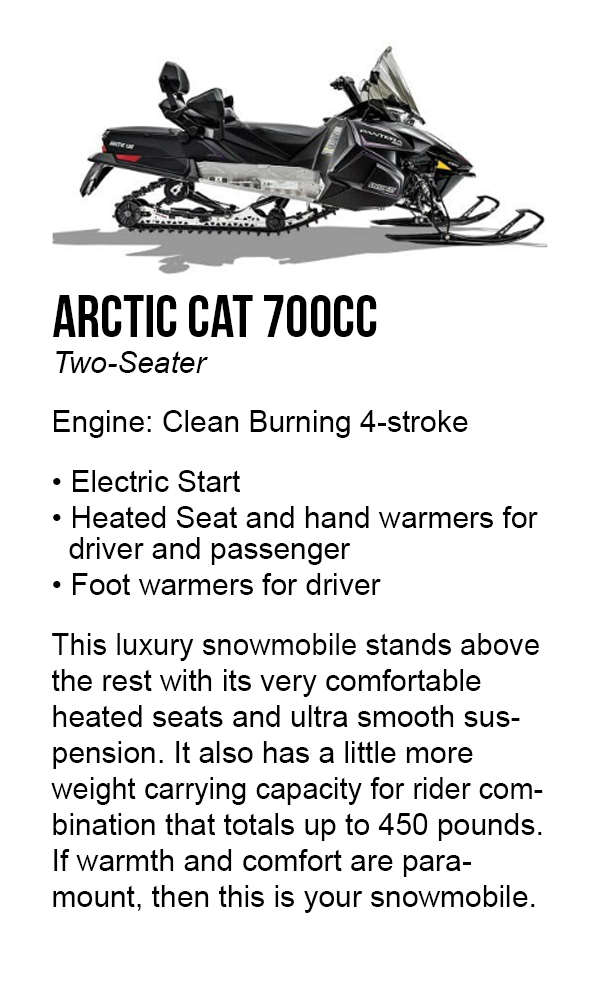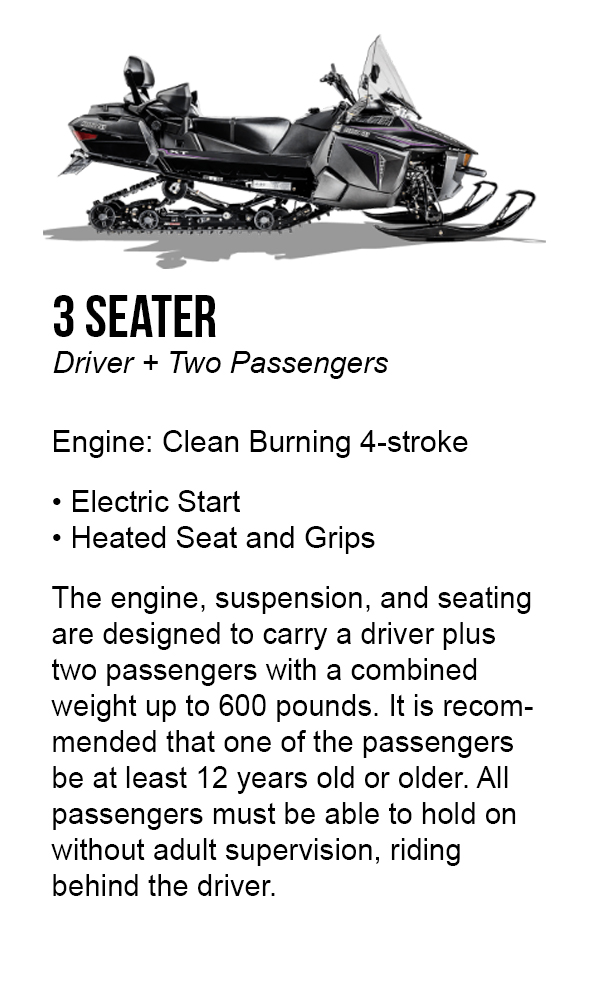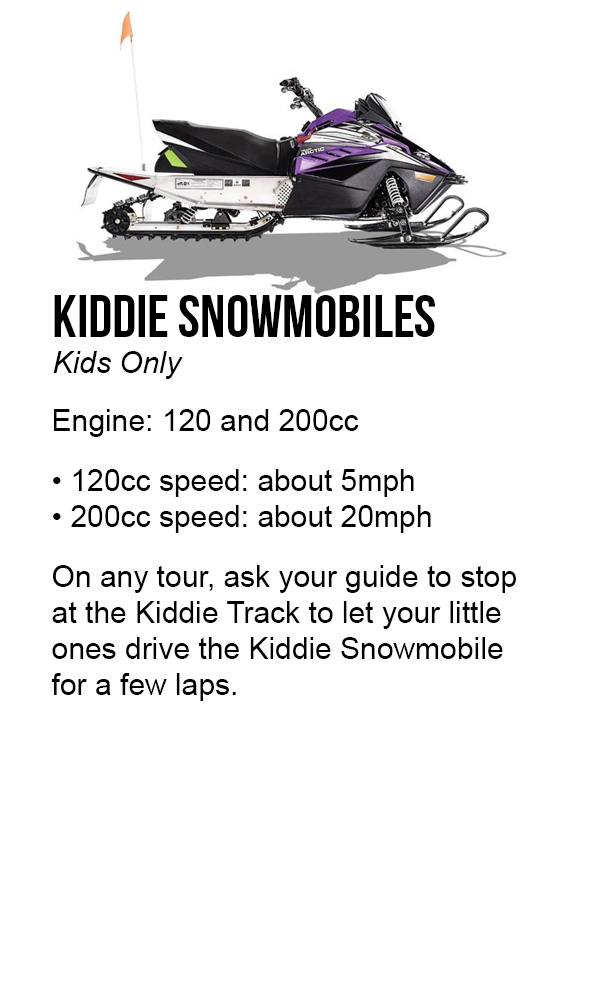 AN OVERVIEW OF YOUR COLORADO GUIDED SNOWMOBILE TOUR
Arrival, Check-in, and Gearing Up
High Country Tours requires that you arrive at least 30 minutes before your scheduled tour so that you can fill out the appropriate paperwork and get geared up. (Arriving 45 minutes prior to your tour time during Christmas season is great!) Transportation to the tour site is available from some area resorts. You must call prior to your tour day to schedule a pickup 45 to 90 minutes before your tour time. HCT provides complimentary snow suits, boots, and DOT-rated helmets to all of our riders, but it works very well if you have your own snowsuits/winter coat & pants and boots — then you know they fit well! Sorry, we do not provide children's snowsuits and boots. You will need to wear our helmets, however, as most ski helmets do not meet the DOT-rated requirement. Child-sized helmets are provided! We're glad to help you choose and fit into appropriate riding gear. Heeney Outpost also provides indoor bathrooms.
Meet Your Guide
Once you're all geared up, you'll be assigned a guide. Your experienced guide will demonstrate how to operate the snowmobiles, answer any questions you may have on how to operate the machines, and educate you on proper trail etiquette.
Starting the Tour
Once everyone is ready, you will all leave the parking lot together and your guide will check to make sure that everyone is coming along. We want everyone to feel comfortable with the pace of the tour and ensure that you are well within your own comfort zone. If you have a question or concern at any time, you can stop on the trail and your guide will come back to check on you. It's your responsibility to operate the vehicle safely and you should never go through terrain, over obstacles, or travel faster than you feel comfortable with.
Along the Trail
Talk to your guide and let them know what kind of tour you'd like! If you want to spend more time at viewpoints, your guide will direct you to spots that will afford dramatic views and photo opportunities of mountain peaks and the surrounding landscape features. If you'd prefer to spend more time on the trails, our experienced guides know all the best places.
Finishing Your Tour
When you arrive back at our parking lot, you'll check in the gear and the snowmobile you were assigned. Be sure to show your appreciation for the service your guide provided by offering the customary gratuity. Afterwards, feel free to hang out and share your experience with others or watch as new arrivals begin their own adventure!
What Happens if I Damage a Snowmobile?
You are responsible for repairs of any collision damages that you may have caused. The good news is that High Country Tours offers our "Snowmobile Repair Fund." By contributing $25 (per driver) to this fund before your tour, you will be responsible for the first $750 of damage done to the sled. After that, the Repair Fund will kick in and cover the cost of repairing the snowmobile that you were operating. Considering that some of our machines cost over $16,000, this could be a very wise choice.
What to Bring
• Proper winter clothing and gear
• Snow gloves (MUST bring your own)
• Goggles (we have goggle rentals for $10)
• Digital camera or recording device
• Drivers Need Photo ID for check-in
• Minors under 18 must have a waiver filled out by a legal guardian
What NOT to Bring
• Alcohol or drugs of any kind
• Unhappy faces or bad attitudes-come ready to have a good time!
• If any of our employees suspect or witness you using drugs or alcohol you will not be allowed to participate, but you will still be responsible to pay for you reserved slot. (EG: If you walk in with bloodshot eyes and smell like marijuana you will not be allowed to ride.) 
Who Can Drive/Ride?
In order to drive a full-sized snowmobile, the driver must have a valid driving learner's permit or driver's license. Only adults 18 or over with a valid driver's license can carry passengers. We have snowmobiles that can carry a driver plus one or two passengers. Small children must be able to ride behind the driver and hold on by themselves for the duration of the tour. They cannot sit in front of the driver. (No infants.) Up to two larger children can ride behind if they are able to hold on for the duration of the tour on our three-seater snowmobiles. It is highly recommended that pregnant women.
Kids under 70 pounds can ride our kiddie snowmobiles in a specially designated area. No age limit! If they can operate it by themselves, they're good to go.
This place not only was affordable but compared to all the other surrounding locations it definitely was more personalized and friendly! Our guides name was Tim and he not only took us over 3 mountain ranges and drop a bucket load of knowledge on us about the area he made...read more→
High Country snowmobile Tours was amazing. We saw some of he most amazing views. We first took the Mountain top tour then came back for more fun on the advance course ride. Our guide was super fun and friendly both times. An experience I'll never forget!
We had a GREAT time. Trevor our guide was outstanding. This was our first time on a snow machine. We have been wanting to for a long time, but with an autistic son it just seemed like something we wouldn't be able to do. Or at least would have to...read more→
We had an awesome time! The views were amazing and our guide was very accommodating with the folks in our party that were new to snowmobiling. Highly recommend the snow tubing too, as the hill was awesome and getting pulled up the hill by your guide is almost as much...read more→
Heeney Outpost We had an absolutely wonderful time. The trail was stunning. Matt, our tour guide, was so helpful. He stopped at places and told us where we were and some stories about the them. He is very knowledgeable and very friendly. We had a great time and will definitely...read more→
Top of the mountain tour Great time with the guys on this adventure. Will was our guide and was great. Would say a bit of riding experience goes a ways in this more challenging trip up to 13,000ft. Anyone can do it but it was more challenging for some. Will...read more→
Great tour. Recommend Devan as a guide. Got a group of guys together and went for the scenic tour. Our guide was Devan and she was great. Devan was great at moving at the speed that we wanted to move at. A great balance of sight seeing as well as...read more→
Great tour and tubing! Did a 2 hour snowmobile and tube tour with family of 4 on 2 snowmobiles. Staff were very friendly and professional. Snowmobiles were in great shape and ran well. Trails were beautiful. This location is far outside of the towns and away from highways. Tubing was...read more→