COLORADO SNOWMOBILE TOUR RENTALS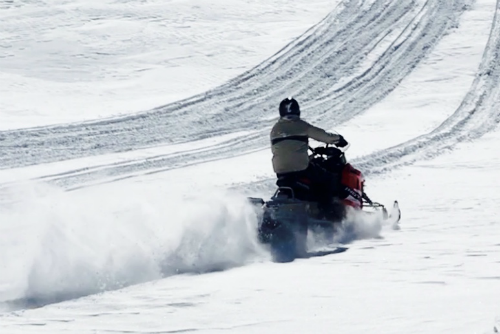 Looking for a Colorado Snowmobile Tour or rental? We have the snowmobiles that are up for the challenge. Servicing the Keystone, Breckenridge, Denver, Copper Mountain, Vail and Silverthorne areas, we are within 45 minutes of each of these great cities! (Please note, Denver is approx. 1.5-2 hours from each of our locations.) 
Our snowmobiles are handpicked to deliver the ride you want for this type of terrain. You'll want to consider several factors when choosing a machine for your tour.
Please read our brief overview below and check out the details of each snowmobile. If you plan on carrying a passenger, be sure to look at the combined weight limit.
If you have questions, or you're not quite sure which one to choose, give us a call.  We want you to have the best possible experience! 
Drivers & Passengers
All drivers must be have a valid driver's learning permit or driver's license in order to drive a full-sized snowmobile. You must have a valid driver's license and be 18 years of age or older if you want to carry passengers.
If you have small children, they must be old enough to sit behind the driver and hold on by themselves without supervision during the duration of the tour.
Kiddie snowmobiles are available as a stop during the tour upon request for children under 70 lbs. We also have midsize snowmobiles for kids larger than 70 lbs but not yet old enough to drive a full size machine.
This is also a stop during the tour. Ask about the availability and rules when you call!
Engine Type/Performance
If you want a smoother ride, cleaner and more quiet exhaust, and the  convenience of push button starting, then choose a sled with a four-stroke engine.
Snowmobile Extra Features
Want a warmer, more comfortable ride? Then examine the snowmobile's "extra features" description:  most have heated foot and hand  warmers! Make your choices based on the type of experience you want to have. Again, if you have questions, give us a call!
ONE AND TWO PASSENGER SNOWMOBILES
This place not only was affordable but compared to all the other surrounding locations it definitely was more personalized and friendly! Our guides name was Tim and he not only took us over 3 mountain ranges and drop a bucket load of knowledge on us about the area he made…read more →
High Country snowmobile Tours was amazing. We saw some of he most amazing views. We first took the Mountain top tour then came back for more fun on the advance course ride. Our guide was super fun and friendly both times. An experience I'll never forget!
We had a GREAT time. Trevor our guide was outstanding. This was our first time on a snow machine. We have been wanting to for a long time, but with an autistic son it just seemed like something we wouldn't be able to do. Or at least would have to…read more →
We had an awesome time! The views were amazing and our guide was very accommodating with the folks in our party that were new to snowmobiling. Highly recommend the snow tubing too, as the hill was awesome and getting pulled up the hill by your guide is almost as much…read more →
Heeney Outpost We had an absolutely wonderful time. The trail was stunning. Matt, our tour guide, was so helpful. He stopped at places and told us where we were and some stories about the them. He is very knowledgeable and very friendly. We had a great time and will definitely…read more →
Top of the mountain tour Great time with the guys on this adventure. Will was our guide and was great. Would say a bit of riding experience goes a ways in this more challenging trip up to 13,000ft. Anyone can do it but it was more challenging for some. Will…read more →
Great tour. Recommend Devan as a guide. Got a group of guys together and went for the scenic tour. Our guide was Devan and she was great. Devan was great at moving at the speed that we wanted to move at. A great balance of sight seeing as well as…read more →
Great tour and tubing! Did a 2 hour snowmobile and tube tour with family of 4 on 2 snowmobiles. Staff were very friendly and professional. Snowmobiles were in great shape and ran well. Trails were beautiful. This location is far outside of the towns and away from highways. Tubing was…read more →
Great Snowmobile Trip! I've been on snowmobile trips before and this one was my favorite! We took the trip that was at Heeney Road and the scenery was perfect, going through forest, thick trees, and open high country. Great views and a place to "open it up a little"! Our…read more →
It was Awesome We had the pleasure of doing this after an overnight snowfall. The powder was deep, like a foot deep. This made the snowmobile a little sluggish turning, but that was not an issue for us. it was absolutely beautiful driving in and out of Aspens and Evergreens,…read more →
At Our Kremmling ATV Outpost Location
On our guided tour the riders can relax and let their guide lead the way to the best trails and the best pictures of surrounding mountain ranges and the continental divide.